Bootable usb pendrive using cmd
Posted on:
28 July 2014
/
Categories:
This documentation describes how to create a usb pendrive using command prompt
Note: This method does not work if your operating system is windows XP or windows 8 , you cannot select the primary partition in command prompt.
To begin:
To obtain the windows files from somewhere and save them to a folder in your pc. You can rip a windows dvd , or if you have the iso image file you can open it with magic disc or daemon tools or even Winrar , and you need to copy the whole content to a folder anywhere in your pc
Make sure your usb stick is inserted, go to start search cmd , right click the file and select run as administrator.
The command prompt will appear, now you need to write the following commands:
diskpart

list disk

select disk (chose the usb device, you will recognize it by its size)

clean(this will erase the usb)

create partition primary

select partition 1

active

format fs=ntfs quick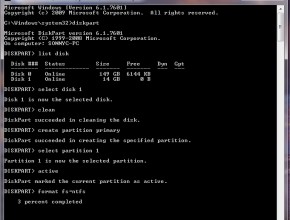 After the format is done you have to continue writing in command promt :
assign (

now you will notice that the usb drive changed its letter)
exit (

this command will exit the disk part function)
Now you can copy the content of windows installer CD to the USB